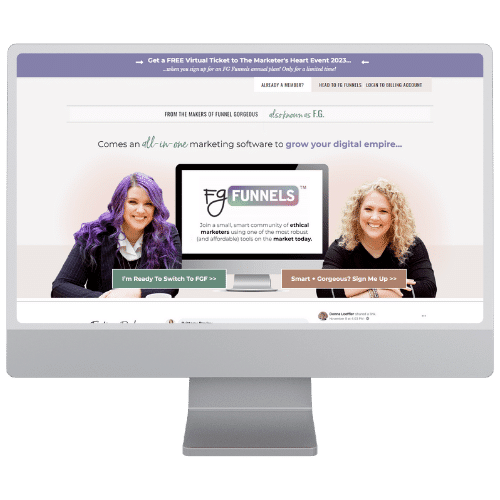 *This post may contain affiliate links and at no additional cost to you, I may get a small commission if you decide to invest in the recommended product or program.
If you own an online business, you will require various software subscriptions, which can become expensive rapidly. You may end up spending over $2,000 per month on individual software subscriptions to achieve everything that FG funnels offer for your business. Moreover, several companies charge additional fees for even the smallest features, such as hosting companies charging extra for storage or bandwidth. However, FG funnels currently provides unlimited access to everything, which is remarkable. No other company provides this kind of service. So, if you want to save money while getting everything you need for your online business, consider FG funnels.
Build funnels + websites
Send emails
Send text messages
In-page Chat Widget
Contact people through FB Messenger™
Send voicemails
Call people
Create advanced triggers and automations based on what users do on your pages and with your messages
Has a calendar scheduler
Gets reviews from your customers
Has a fully built out membership area with native video hosting included
Creates sales pipelines
Has sub-users
Has task functionality built in so when a customer does a certain action, it assigns a task to one of your sub-users.
HTML-Formatted Designed Email Newsletter Builder (Just Released!!)
Pay plan limiter on pay plans (Just Released!!)
Blog (Just Released!!)
Social Planner (goodbye expensive post planner)
AFFILITE PROGRAM (JUST RELEASED)
Check out these quick videos on the Sales Funnel Designer
and Websites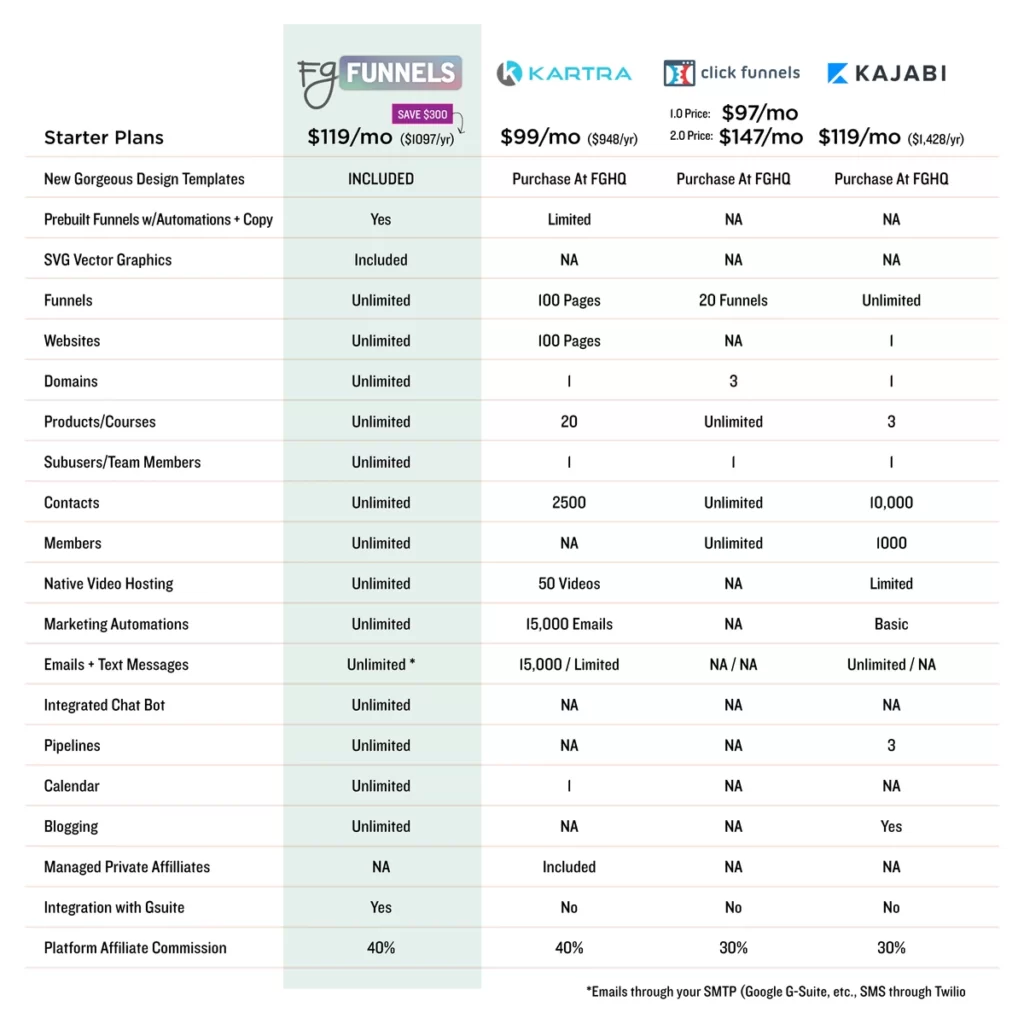 How much online software are you subscribed to right now? Five? Ten? Twenty?
Go ahead and count them, I'll wait.
As an entrepreneur with an online business, there are a lot of different programs and software that kinda come with the territory.
Hosting for a website, or software for a website with a monthly cost (like Squarespace)$
This software for course content $$
That software to house video content $$$
This software for sales funnels $$$
That software for appointment scheduling $$
This software for an email service provider $$$
That software for membership content $$$
This software to automate it all $
That software to keep track of all the automations and software $$
All that software adds up to be a lot of money. QUICK!
Before you know it, you lose track of WHAT you are subscribed to and end up bleeding money.
A client of mine, we'll call her Sally, recently had a big expensive problem. Sally brought me into her team after her manager decided to leave. She was subscribed to so many software and programs that she had no idea what was being paid for and why she was subscribed to it. On top of that, it was a nightmare when it came to passwords and authorizing the logging in to various software.
So, we went over her offers first and decided what programs she needed to hang on to. Then, we took an inventory of the software that she was subscribed to and determined whether she really needed them. I simplified her workload and saved her a ton of money.
Most people would rather have everything they need in one place. It makes it easier to keep track of everything. Have all of your stuff in one place and save a ton of money? Yes, please!
Let's talk about the one thing that MOST companies aren't talking about – Ethics. The creators of Funnels Gorgeous and FG funnels platform are super transparent when it comes to ethics and their work on inclusion in their business and in what they release.
Test Drive the Only True All in One Software
FG Funnels™ Offers a Sustainable System That Grows WITH You
*When you invest in the yearly plan